Announcement - Infocomm 2019
AES70 Evaluation Kit - ALSA as an OCA Device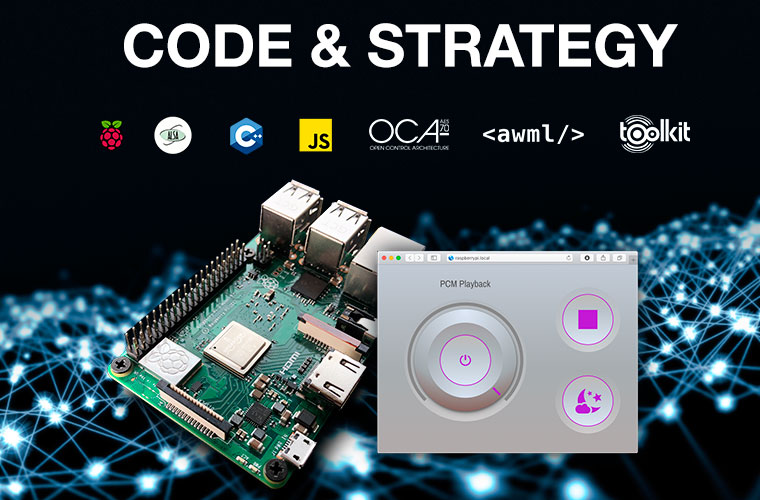 In Orlando (Florida) at this year's Infocomm trade show, Matt Hardy will have a 'hot off the press' evaluation kit, promised to many back in February at Integrated Systems Europe (ISE). We've brought AES70 to ALSA (Advanced Linux Sound Architecture) enabling control over parameters such as channel mixers, gain and other sound card features. Control is handled via a remote web-ui built using the audio widget library Toolkit and AWML (Audio Widget Markup Language).
In the first release we chose the Raspberry Pi platform. This off the shelf, low-cost platform offers a single channel sound card with basic playback and volume control. The only requirement to try out the initial evaluation kit is your own Raspberry Pi and access to a network.
For ease of installation the software is delivered as a binary via the Raspian deb package system. Code examples covering how integrations can look for structured systems is also included. Of additional interest in the ALSA integration is a control UI which utilises the JavaScript AES70 controller implementation, AES70.js. The AES70 protocol is used for all control functionality, both device and remote client.
Our recently released support for dynamic devices will be of interest as we roll out additional binaries. General purpose Linux systems will be able to auto-generate a control UI that connects and controls all the parameters ALSA offers.
The concept provides engineers and product managers hands on examples of how DeusO's approach to integration of the AES70 protocol can fast track development, ensure code quality and remain remarkably cost effective.
"Our team has arrived at the point where the integration of our AES70 libraries is not really a development project so much. We can hand over a library template which can be used for in-house engineers to quickly 'wire up' any device functionality required." Says Matt Hardy.
Links
Read more about the show and why it's such a great place to become more informed, network, and generally be overwhelmed by the sheer amount of Pro AV gear: Find more information on Infocomm Show's website.