AES70 making headway in Pro Audio
New Products Announced
Smart Pi DSP
T&M Media Pty Ltd directors Mark Lownds and Treva Head, pictured with Matt Hardy - partner at DeusO, displayed their new Smart Pi DSP. Smart Pi DSP utilizes AES70 for internal and external control. Treva and Mark asked DeusO to provide ther commercial AES70 device and controller libraries (libAES70.cpp + AES70.js) and assist in the implementation process with their internal C++ and embedded development team. In addition, the web-based user interface provides operator access to all system parameters for config and realtime control, employing DeusO's pro-audio widgets library. The innovative web-based control interface for this new-generation DSP and mixer technology was designed and built by Markus Schmidt, a founder of DeusO.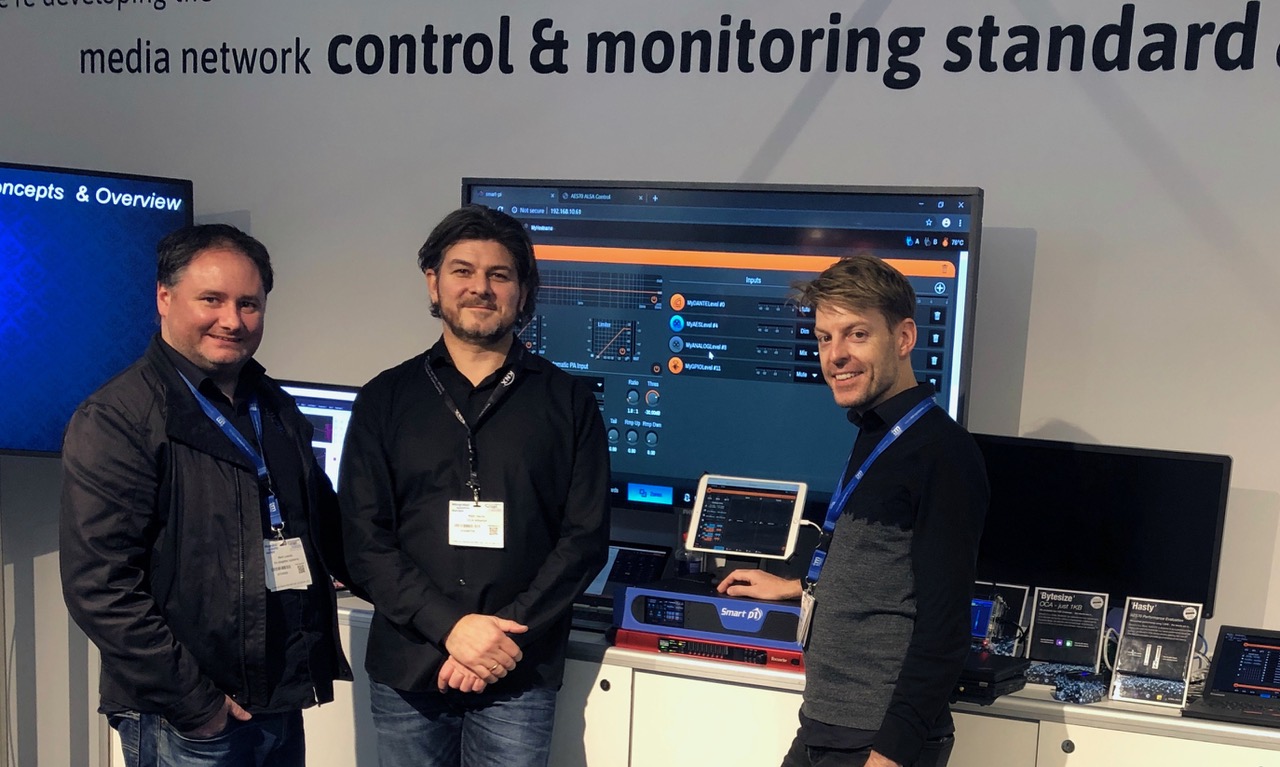 Mark Lownds (left), Matt Hardy (center), Treva Head (right) at the 2020 OCA Alliance booth
Resolute Audio DSP Module
Profusion Ltd displayed a new DSP module and development kit for both AES67 & AES70. The DSP module integrates DSP with the AES70 protocol and a corresponding web-based user interface, all running on the single module. The concept allows for rapid development of embedded audio applications or customized solutions. Profusion contracted DeusO to develop an auto-generation build process for integration with the DSP design system and the AES70 control protocol (libAES70.cpp). The resulting firmware contains all the DSP, required OCA Device parameters and UI widgets for controlling the module with AES70.js using a web browser.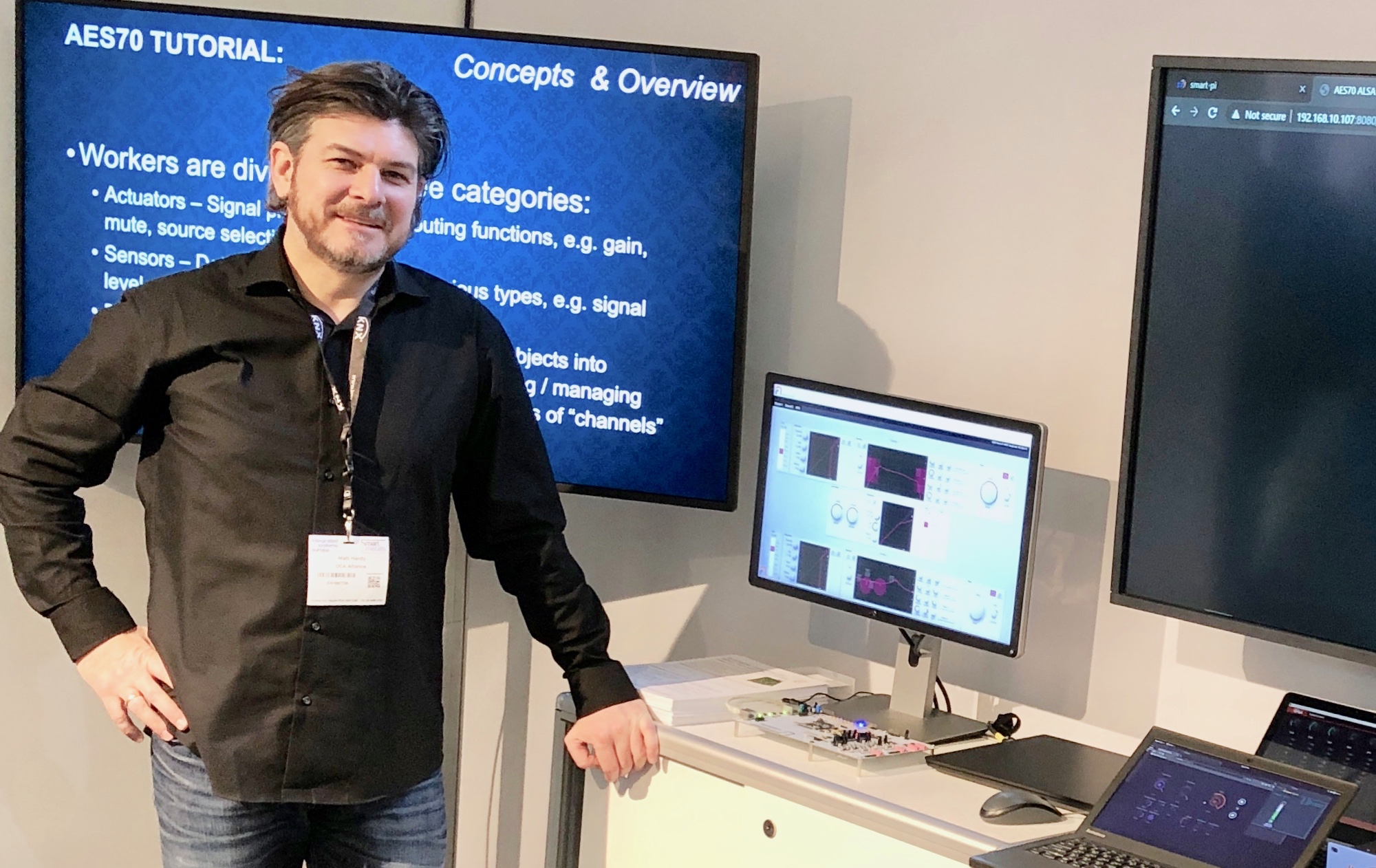 Matt Hardy next to the Profusion DSP module at the 2020 OCA Alliance booth
DeusO's Dept. for R & D
At ISE 2020 DeusO displayed the 1KB OCA demo, 1.5KB performance demo and the ALSA-AES70 C++/JavaScript evaluation kit. These R&D examples complimented a range of new products from companies using the DeusO AES70 libraries
1KB OCA + 1.5KB OCA
All R&D demonstrations were on dispay at the OCA Alliance booth, 7-H250 ISE 2020.
Recap...
Small Footprint AES70 - 'Bytesize'
DeusO has acheived a fully functional OCA device in under 1KB memory footprint. The 1KB OCA demo dubbed 'Bytesize' dispels any misconception that the AES70 control protocol requires large amounts of resources for embedded devices.
Utilising an 8bit ATmega328 microcontroller, the 2KB of SRAM is shared by mDNS, DHCP + AES70.
DeusO's C++ AES70 library enables automatic optimisation of OCA Device compilations. The results are clear, AES70 is not necessarily resource heavy.
Network Performance - Evaluating AES70 with 'Hasty'
We stripped out mDNS to allow an additional 500Bytes to be used by a 1.5KB OCA implementation.
To show how well AES70 performs on small network devices, we have designed a gain + level meter device. It connects to a web-UI 'network round trip' performance demonstration.
The web-based user interface also utilizes OCA, controlling the device with DeusO's AES70.js library. The user interface visually shows how a user interface matches the physical LEDs, performance wise.
Estimating Resource Requirements
By demonstrating the AES70 protocol running on a tiny microcontroller, and showing how well the protocol performs in such resource contrained enviuronment on a network, DeusO has the evidence you need to build confidence in adopting OCA as the control protocol for your ecosystem of IP media devices, now and into the future.
Contact DeusO for discussions on your resource calculations. We have tools available to help determine the kind of resources your small device might require. We also have strategies for building up dynamic devices and networks of devices which have much greater memory resources and need to scale to millions of controllable objects over complex network topologies.
AES70+ALSA evaluation kit - 'Highjinks'
Wait, there's more!
The ALSA evaluation kit dubbed 'Highjinks' is now 'a thing'. You can visit our information page for instructions on how to download and install the DEB package for Raspian or Debian based Linux distributions. Grab the nearest Raspberry Pi, install the deb and experience how you can control the Sound Driver (ALSA) using AES70.
This evaluation helps with:
Demonstrating to product owners OCA performance
Demonstrate how existing APIs can be exposed as OCA Devices
Show web-based UIs alongside installed control software
Delivery of Cloud based UIs for local device control
Download Link: AES70 ALSA Demo

Additional Links
OCA Alliance: Website